Car parking at Japan Tokyo Narita Airport
Kokusai Kuko Parking - Pickup and Dropoff at the airport terminal - Free car washing service is available.
Tel: 0476-32-0618 E-mail: kokusaip@lares.dti.ne.jp


WELCOME TO KOKUSAI KUKO PARKING !
Japan Tokyo Narita Airport Parking.
---
Japan Tokyo Narita Airport Parking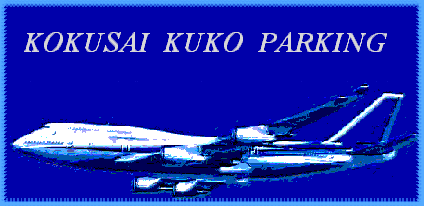 Why don't you come to airport by your car?
We will take your car at departure floor and return.
From today, you dont have to carry your big and heavy bags anymore!!
This is the best way going abroad from Japan!!

---

Ā• Our system ( We take your car and return at the airport terminal. )

Departure day
If you come to the Narita Airport by using the Higashikanto express-way,
please give us a call from rest-stop Shisui or Taiei nearest service-area to Narita Airport.
( From this place, it takes about 15 minutes to get to the airport. )


If you have mobile-phone , please give us a call from this area ( Shisui or Taiei ).


If you come to the airport by using the ordinary roads ( route295 and so on ),
please give us a call before arrive the airport.


Narita airport has two passenger terminal buildings, Terminal 1 and Terminal 2.
Using Terminal 1 or Terminal 2 depend on what airline company you use.
Both of terminal, We wait for you at the departure floor.


If you come to our place, We will send you to the airport terminal
by our car or your car we drive.

Arrival day
Please give us a call after customs inspection.


We bring your car to front of the terminal in about 10 minutes.
If you using terminal 2, Please wait at Central Exit. Because terminal 2 is very wide.

Service
Free car washing service by hand not machine is available.


Safety
For unexpected accident, AIU insurance company supports us.

---
| | |
| --- | --- |
| 1st day | 3,150 yen |
| 2nd day | 4,200 yen |
| 3rd day | 5,250 yen |
| 4th day | 6,300 yen |
| 5th day | 7,350 yen |
| 6th day | 8,400 yen |
| 7th day | 9,450 yen |
| 8th day | 10,500 yen |
| 9th day | 11,550 yen |
| 10th day | 12,600 yen |

We are very sorry that you can't use creditcard.
This price is 5% tax included.



---

We take reservation and question only by E-mail


kokusaip@lares.dti.ne.jp

Reservation form


Ā° Tel 0476-32-0618--------
Ā° Fax 0476-32-0629--------

Chiba pref. Narita city. Tokko 477
Front of Hotel Nikko Narita
From 06:30 to last flight + one hour.


---
Back
Japan Tokyo Narita Airport Parking
aoki
eames chair